VR AND DESKTOP VERSIONS
Projection Radiography
Do you want to reach out, touch the x-ray equipment, and palpate the patient to benefit from the kinesthetic learning style? We offer the only immersive VR simulation that shows the correct and incorrect images exactly as you have positioned the patient and x-ray tube and a discernible difference in radiographs based on kVp, mAs, or SID. Right down to seeing quantum mottle if the exposure factors would dictate that in the real world.
Our VR simulation has been proven to improve first-year student clinical assessment, especially in regards to patient positioning and exposure parameter selection.
THE GROWING DEMAND
The clinical X-Ray market is growing
Firstly, due to demographic change: One third of the population will be 65 years old by 2025 - and being more susceptible to chronic diseases, the elderly tend to have a greater number of imaging procedures. Secondly, there is a rising prevalence of cancer and cardiovascular diseases.
For healthcare providers, this means they need to cut patient dose - for example, by reducing repetition rates due to improper exposure or positioning. Continuous training can help improve staff competency. Virtual Reality allows for higher training efficiency.
THE ONLY TRUE VR SIMULATION FOR RADIOGRAPHY
Practical medical imaging education and assessment on demand
New technologies like Virtual Reality have a major impact on the changing education market. Simulation solutions can provide direct and purposeful learning experiences, with improved retention and well-being from the learning experience.
Our Virtual Reality (VR) radiography simulations guide a user through the full end to end process of learning anatomy, radiographic positioning, and pathology about each area of the body before referring a patient.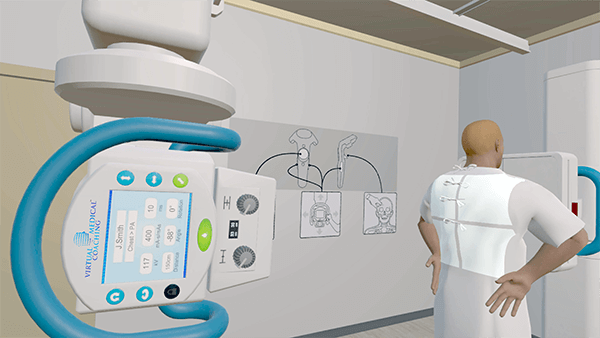 Rather than pressing buttons on a screen or even pressing them in VR to move the patient or machinery - reach out and touch the patient and x-ray tube to position them!
There are 60 different radiogrpahy rooms where you can move one of 60 different patients by walking over to them, palpating the bones, moving the body parts, and finally adjusting the cassette/bucky/tube positions.
Once the patient has been referred the user can enter the VR environment and complete the examination/procedure just as they do in the real world. Following this, the user will be asked AI generated questions based on their experience in the VR environment which will be unique to them.
All of the data is collected and fed into dashboards where a user or their instructors can see at a glance how they are progressing.
Identify strengths and weaknesses
The simulation software can pick up on a learner's strengths and weaknesses and guide them in the appropriate way to practice the radiographic positioning and exposure. Following this, the learner is shown their images to critique along with their feedback from the session.
Comprehensive training module
We offer a wide range of practice modules covering all 206 human bones. Both our VR and Desktop version features an anatomically accurate patient with full skeleton.
BLOGS
More on medical education
ARE YOU READY TO JOIN US?
The future of learning starts today